Discipline is the key to success in all areas of your life. But how do you get discipline?
Some men are fortunate. They were taught self-discipline by their fathers when they were children. For these lucky guys, discipline is just part of their nature now. They don't need to think twice about it.
However, most of us didn't develop discipline while we were growing up. This was my own experience. As an adult, I had cycles of extraordinary productivity followed by periods of resting on my laurels. But in today's world, resting on one's laurels is a recipe for failure.
I knew that I needed to develop self-discipline so I set out in search of the best method.
There are a couple of approaches to developing discipline: the gradual approach and the extreme approach.
The first is the gradual approach that Benjamin Franklin took. Franklin selected the following thirteen virtues that he felt he needed to develop in his life:
Temperance. Eat not to dullness; drink not to elevation.
Silence. Speak not but what may benefit others or yourself; avoid trifling conversation.
Order. Let all your things have their places; let each part of your business have its time.
Resolution. Resolve to perform what you ought; perform without fail what you resolve.
Frugality. Make no expense but to do good to others or yourself; i.e., waste nothing.
Industry. Lose no time; be always employ'd in something useful; cut off all unnecessary actions.
Sincerity. Use no hurtful deceit; think innocently and justly, and, if you speak, speak accordingly.
Justice. Wrong none by doing injuries, or omitting the benefits that are your duty.
Moderation. Avoid extremes; forbear resenting injuries so much as you think they deserve.
Cleanliness. Tolerate no uncleanliness in body, cloaths, or habitation.
Tranquillity. Be not disturbed at trifles, or at accidents common or unavoidable.
Chastity. Rarely use venery but for health or offspring, never to dullness, weakness, or the injury of your own or another's peace or reputation.
Humility. Imitate Jesus and Socrates.
Franklin created a spreadsheet with the days of the week along top and the thirteen virtues along the side.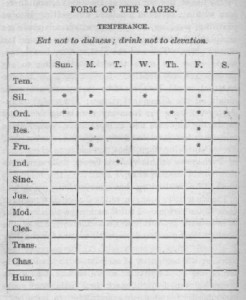 Every week, Franklin would pick one of the virtues to focus on. Then, every evening, he would examine himself to see how he did on each of the virtues with a special emphasis on the virtue that he was focusing on that week. His goal was to work through each virtue until he developed all of them as habits.
In theory, I find Franklin's gradual approach appealing. In practice, I have never been able to work through all the virtues—probably because of my lack of discipline.
The good news is that I have found a second way of developing discipline that does work for me. The extreme approach. In the extreme approach, you don't try to get to your destination slowly. You try to get there as quickly as you can. Adopting a plan to get in shape can serve as a good example.
Let's say that you want to lose weight. In the gradual approach, you might resolve to forego dessert every night and take a 30-minute walk instead. If the rest of your diet remains the same, this will definitely work, but the changes will be slow in coming.
To lose weight in the extreme approach, you would resolve to take on a hardcore diet, say strict paleo, AND adopt a rigorous exercise program at the same time. With this approach, you lose weight and you get fit as well, but the results happen more quickly.
For a long time, I struggled with losing ten pounds using the gradual approach. I tried to watch my carb intake and take thirty-minute walks everyday. I even added a half-hearted weight lifting routine. The result? After several months, my arms and legs got firmer and my waist shrank—but only by a small amount. It wasn't enough to motivate me.
My lack of motivation had the side effect: I frequently engaged in small cheating. A cookie here, a chocolate there. This caused me to constantly feel guilty. At every meal, I felt like I should have been better. I should have eaten a little less. I should have had a little less carb. I was walking around always feeling defeated. I felt like a complete failure.
After feeling frustrated for a long time, I decided to try an extreme approach. I bought Beachbody's Body Beast, an intense bodybuilding workout, and started working out six days a week. I also decided to have one cheat meal per week versus my old approach of trying to be good all the time.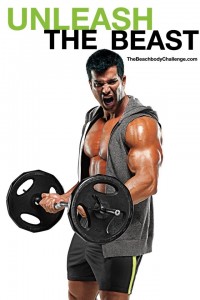 The results came immediately. Even after one workout, I noticed that the muscles that I had worked were noticeably bigger the next day. Maybe it was just water retention from the beating they had received the day before, but the important thing was that I felt something was happening.
My diet also became instantly perfect. I had no desire to sabotage myself through diet while I was busting my ass in my daily workouts. But I also rewarded myself for being good. I take my cheat meals on Sunday. Now I really go all out for my cheat meal. I'll have two or three donuts in one sitting and have zero guilt about it.
The extreme approach to developing discipline can work in any area of your life. Do you want to develop a deep spiritual life? Don't just resolve to spend fifteen minutes in prayer. Do the whole spiritual program.
Do you want your house to be more organized? Don't spend ten minutes a day cleaning. Dedicate a whole weekend to completely reorganizing your house.
Do you want to meet more women? Force yourself to strike up conversations with every cute girl who comes across your path, whether you want to or not.
Going extreme is going to give you an immediate return on your efforts. It will give you immediate victory. And being victorious in one area of your life will automatically give you the right mindset to be victorious in all areas of your life because victory attracts more victory.