Is Chivalry Dead? It depends on what you mean by chivalry.
When most people say chivalry, they are thinking of the behaviors of an upper class Englishman during the Victorian and Edwardian periods. Probably the best example of this is the behavior of the gentlemen on the Titanic who ensured that the lifeboats were loaded with "women and children first," and who waited for their inevitable death dressed in their best dinner jacket.
Most of the values of Victorian chivalry are still alive today. Who can argue with being honest, honorable, patriotic, and being willing to fulfill your duty? We could use more men who emulate these qualities.
The part of Victorian chivalry that people question is the behavior of men towards women.
The gentleman was expected to protect the honor and safety of women. This included defending women against physical attacks against their person as well doing things such as opening doors, and allowing women to go first.
I think these values are still alive today as well, but with some caveats. Men are still obliged to defend weaker people from a physical attack by a stronger assailant. What man worth his salt would not defend a woman who was being threatened by a rapist, or an elderly man from a mugger?
But the manners of Victorian chivalry do need updating. I still hold the door open for women, but only if they are walking close by. I don't go out of my way to do so. I am also egalitarian in that I will hold the door open for a man as well. I don't give up my seat on the train for able-bodied young women, but I do for elderly people and pregnant women.
Victorian chivalry was not perfect but it was a legitimate development of true chivalry. In our day, new forms of "chivalry" have sprung up. They are complete misunderstandings of what true chivalry really is.
White Knight or beta male as knight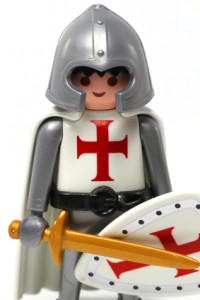 The white knight is really just a beta male who finds it hard to attract women. To compensate, he tries to do over the top gestures. He will send flowers or read poetry. He will volunteer to drive a woman around or shovel the snow around her parking spot. On the internet, the white knight will write nice comments on women's Instagram pictures.
The white knight is doing all these things in the hopes that one of these ladies will consent to dating him. He always gets rejected and he wonders why because he thinks he is "nicer" than the men who are getting the girls.
The white knight might see himself as a true knight, but he is just a caricature. Fortunately, he can take steps to become more alpha and leave his losing strategies behind.
White knights have absolutely nothing to do with true chivalry. They just give it a bad name.
Christian man as knight
This is a common theme among Protestant Evangelicals. The basic idea is that chivalry can be boiled down to men who devoutly live out biblical principles. While this captures the spirituality aspect of chivalry, it completely misses the boat on everything else. A knight was not just a devout Christian.
Society for Creative Anachronism member as knight
 The Society for Creative Anachronism (SCA) has an extremely developed system for "knights." An SCA knight will buy armor and participate in tournaments involving sword fighting with rattan sticks and other weapons that have been made safe.
To become a knight, a man in the SCA has to defeat the other knights of his region.
The SCA has gotten one portion of chivalry right—the necessity that a knight have martial prowess. A knight has to be able to kick ass.
But the members of the SCA that I have met are generally the opposite of spiritual. I have yet to meet a Christian member of the SCA. How can an organization that takes its inspiration from the Middle Ages miss the Catholic faith, which was the unifying principle of the Middle Ages?
Liberal wimp as knight
There is a book out there called Chivalry Now that presents a modern take on chivalry. It has some good points. It emphasizes the need for a modern knight to be honest and to avoid gossip and slander.
It also has some bad points. Chivalry Now seems to indicate that a modern knight will support progressive political causes, including feminism. The ideal "knight" of this book is a Ted Kennedy type character except that he doesn't lie or womanize.
Chivalry Now is sort of a call for a men's movement similar to feminism, but without feminism's teeth. In other words, it posits a weak feminism for men.
The chivalry of this book is also egalitarian. It is intended for any man who wants to pick it up and practice it as part of this weak men's movement. But ancient chivalry was not egalitarian. It was reserved to the few strong enough practice it.
Again, the martial aspect of chivalry is deemphasized in this book even though the author is a martial artist.
What is true chivalry?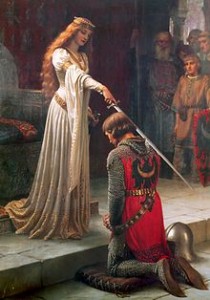 Originally, chivalry was a code of conduct for warriors.
Warrior: The first knights were primarily warriors. They worked out to stay in peak physical condition because being out of shape could mean death in a battle. Any modern take on chivalry needs to include the aspect of martial prowess.
Courtier: Knights were not just effective fighters. Knights were raised at court—the political power centers of the Middle Ages. While they were not scholars, the ideal knight was also a courtier. In short, he was cultured and urbane.
Lover: Knights were also lovers, but they lived in a milieu completely different from our own. In that time, relations between highborn men and women were guided by the concept of courtly love. Courtly love does not apply to our current culture. It was a ghastly institution that emerged as a result of the peculiar circumstances of the time.
The fact remains though: knights were good with women. That doesn't mean that the knight was the ancient equivalent of a modern pick up artist—far from it.
Men of Honor: Knights lived according to a strict moral code. They were sworn to defend the weak. They kept their word. If a knight made a vow, he kept it even if the vow was a rash one. They valued their honor.
Believer: Knights had faith. There is no escaping this fact. Chivalry originated in Catholic Europe. Some had more faith, some had less, but to a man, they all believed.
A New Knighthood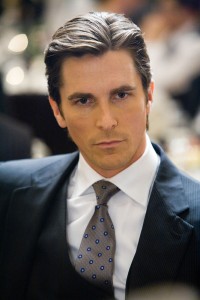 What would a modern knight look like? He would have all the qualities of the ancient knight, but they would be updated to fit the times. He would be a skilled fighter. A man of honor. He would be popular with women and a pillar in his community. He would be successful in business or politics. He would be spiritual.
A good approximation of the modern knight already exists in the form of the Bruce Wayne character from the Batman franchise. The only element Bruce Wayne seems to lack is a deep faith.
Of course, not all of us can be billionaires but men who feel called to chivalry, and I believe it is a calling, have a good model in Bruce Wayne.