It was just a matter of time. Now that same-sex marriage is the law of the land in the US, the progressives can get to work on their real objective—making sex with little boys legal.
It sounds so outrageous that most of us will refuse to believe it and therefore do nothing to oppose it. That is exactly what the progressives want. They want us to be in disbelief until the campaign is in full swing. At that point, it will be too late.
The time to put an end to this campaign is now.
What evidence is there that the campaign has started?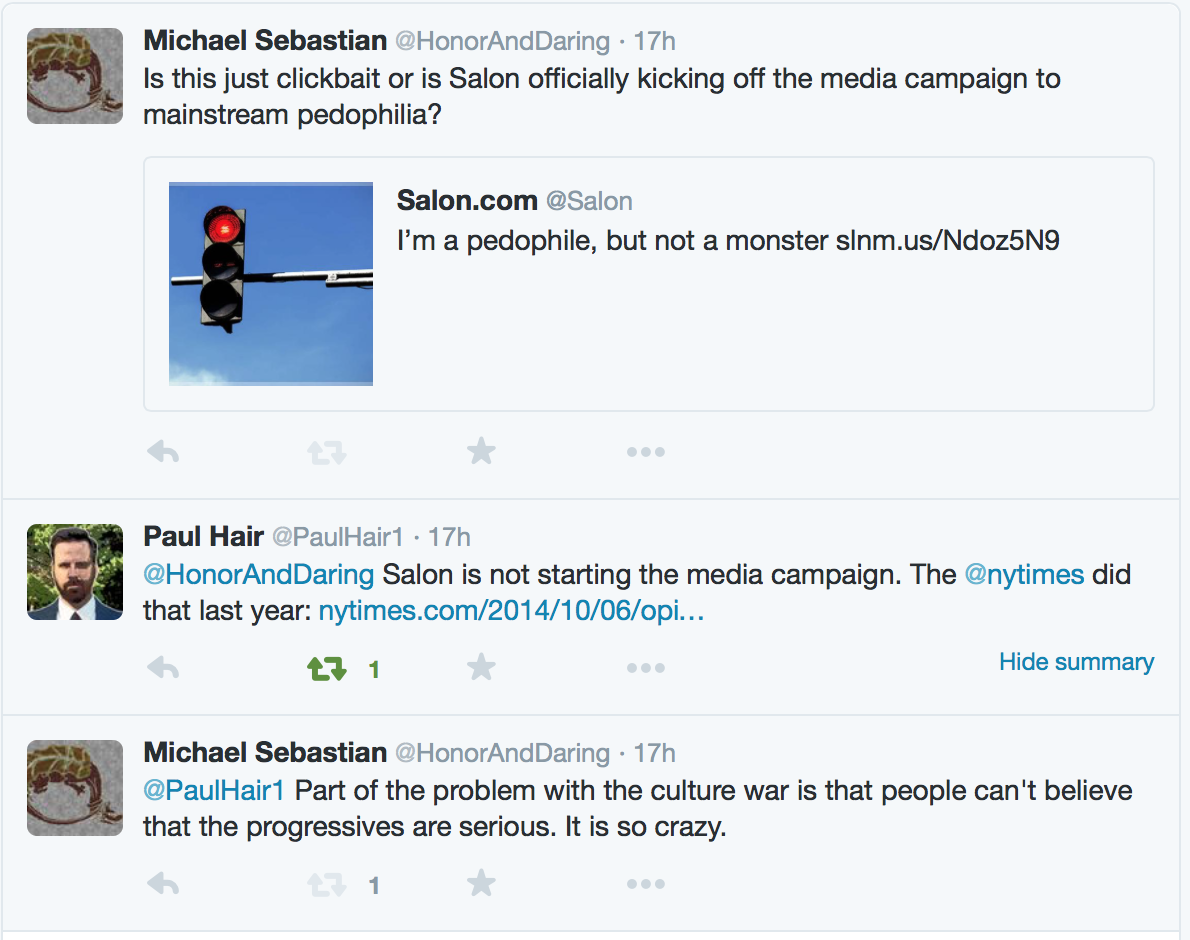 It started, not surprisingly, with a New York Times article back in October 2014. The article by Rutgers University professor Margo Kaplan, entitled Pedophilia: A Disorder, Not a Crime, argues that being sexually attracted to children is not a choice.
By some estimates, 1 percent of the male population continues, long after puberty, to find themselves attracted to prepubescent children.
Kaplan says the disorder has a neurological cause:
Recent research, while often limited to sex offenders — because of the stigma of pedophilia — suggests that the disorder may have neurological origins. Pedophilia could result from a failure in the brain to identify which environmental stimuli should provoke a sexual response. M.R.I.s of sex offenders with pedophilia show fewer of the neural pathways known as white matter in their brains. Men with pedophilia are three times more likely to be left-handed or ambidextrous, a finding that strongly suggests a neurological cause. Some findings also suggest that disturbances in neurodevelopment in utero or early childhood increase the risk of pedophilia. Studies have also shown that men with pedophilia have, on average, lower scores on tests of visual-spatial ability and verbal memory.
Born that way
One might say, according to this article, that pedophiles are either "born that way" or something happens very early in their development to cause them to have this attraction. Does any of this sound familiar?
It should. This was exactly the type of reasoning used to mainstream homosexuality. Gay activists made the case that their same-sex attraction was not something that could be helped. They argued that they were "born that way."
The article goes on to goes on to bemoan the fact that pedophiles do not feel safe in expressing their inclination to others for fear of being stigmatized. But there is a big difference between a man who feels an attraction for another adult male, and a man who feels attraction to a little boy or a little girl. In one case we are talking about consenting adults. In the other we are talking about minor children.
The law treats children differently
In the law, children under the age of 18 are treated very differently than adults. Any crimes they commit while juveniles are sealed once they reach the age of 18. Juveniles also cannot be held to any contracts that they sign. The reason is because we recognize that children under 18 do not have the full use of their reasoning faculties. They are emotionally immature so they are easily led to do things that an emotionally mature person would not do.
The statutory rape laws also recognize this fact. If an adult male has "consensual" sex with a minor girl, the law recognizes that the girl does not have the faculties to truly consent. Therefore, saying the girl was willing is no defense.
What is the initial push?
The pedophilia activists are first asking for their perversion to be recognized as a disability:
The Americans With Disabilities Act of 1990 and Section 504 of the Rehabilitation Act of 1973 prohibit discrimination against otherwise qualified individuals with mental disabilities, in areas such as employment, education and medical care. Congress, however, explicitly excluded pedophilia from protection under these two crucial laws.

It's time to revisit these categorical exclusions.
Make no mistake. Categorizing pedophilia as a disability is the first step in making it go mainstream.
Escalating the campaign
This September, the campaign to mainstream pedophilia took another step forward. The first article was a dispassionate piece by an academic. The next article, entitled I'm a pedophile, not a monster, is by "Todd Nickerson" who claims to be a pedophile.
Nickerson uses the familiar language of sexual orientation to legitimize his attraction. He is also a highly virtuous person because he says that he does not actually molest children or view child pornography:
I've been stuck with the most unfortunate of sexual orientations, a preference for a group of people who are legally, morally and psychologically unable to reciprocate my feelings and desires.  It's a curse of the first order, a completely unworkable sexuality, and it's mine.  Who am I?  Nice to meet you.  My name is Todd Nickerson, and I'm a pedophile.  Does that surprise you?  Yeah, not many of us are willing to share our story, for good reason.  To confess a sexual attraction to children is to lay claim to the most reviled status on the planet, one that effectively ends any chance you have of living a normal life.  Yet, I'm not the monster you think me to be.  I've never touched a child sexually in my life and never will, nor do I use child pornography.
The Salon article begins to tap into our sympathy. Why can't we just be adults and allow Mr. Nickerson to "come out" with his feelings?
If we do let pedophiles come out of the closet, the next step will be to have some pedophile characters on TV sit-coms. Remember Will and Grace?
"Conservative" journals will pose no defense
But the conservative journals like National Review will be on this immediately. They will see it for what it really is: a campaign to mainstream perversion. Right?
Wrong. National Review has already published an article defending the Salon article as being completely reasonable. The article, by Charles C.W. Cooke argues that we need to accept non practicing pedophiles. He even includes an appeal to Christian guilt:
I am not a practicing Christian, but, as far as I can recall from my instruction as a child, the author is taking precisely the approach that Christians are supposed to take when they find themselves tempted toward sin. I suppose that it is possible that I am seriously mis-remembering the core tenets of the faith, but don't followers of Jesus believe that everybody is born with impulses that lead them toward unacceptable behavior? And don't they also believe that they are called to act chastely — that is, to avoid indulging those impulses and instead to seek a way to be freed from them? It was a while ago, I accept, but I cannot recollect any caveats being attached to these rules. Are we now to suppose that it does not apply when the propensity in question is sufficiently egregious? Is there a new-fangled carve-out for instincts that turn our stomach? If there is not, we might think twice before condemning a man for admitting he has a terrible, terrible problem.
We tend to think of pedophiles as poor, shifty-looking men in raincoats who stand in corners and cough a lot—the stereotypical pervert from Monty Python.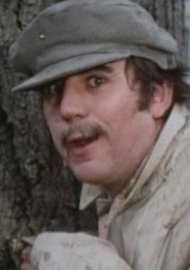 However, there is no doubt that there are many pedophiles who have a significant amount of money. These men will be willing to donate money to make sure their message gets out, and even the "bastions" of conservatism can fall prey to towing the line if the donation is big enough.
The Christian Attitude
Of course, nobody is proposing that we imprison men who are attracted to children if they are not acting on that attraction. But that does not mean that we have to accept it as a disability. It is also something that does not need to be out in the open. There is no requirement that everyone accept every lust or temptation that a person is inclined to.
One thing is certain: If we are going to be successful in fighting this, we are going to have to (1) Admit that is happening, and (2) Argue against it now, before it picks up steam. This is a time for vigilance.
Update:
National Review has published an editorial that walks back the Charles C.W. Cooke piece. While I welcome Jonah Goldberg's article, I still think that Cooke's original op-ed was a trial ballon. The first piece is met with loud protests. The next attempt will be met with less opposition. It is a process of desensitization. It is part of a plan.
It is pretty apparent that some people don't understand what is implied by making pedophilia a protected disability. It means that schools, daycare centers, scouting troops, and youth sports teams would be required to hire people who have openly expressed themselves as having a sexual attraction to children—as long as they met the other job criteria.
It also means that if a pedophile school teacher was fired from his job, he would automatically have a greater recourse to suing his employer, even if the employer did not fire him for his pedophilia.
There are reasons that the government, in what little wisdom it has, limits the things that are characterized as disabilities.
People have a whole host of weird issues. There are men who are attracted to feet. Does that mean that people with a foot fetish should be characterized as being disabled?
Is kleptomania a disability?
There are men who can't stop masturbating to internet porn. Is this a disability?
What the pedophiles are complaining about is that they cannot go about openly professing their desire to molest children. If they feel this disordered urge and they don't act on the urge, I commend them. But I don't think our children or society as a whole will be better off by opening this Pandora's box.
The Campaign To Mainstream Pedophilia Has Begun