Let's make one thing perfectly clear from the outset: I am a big advocate of getting married and having children. Lots of them. I just got started and I wish I would have started sooner. I can think of nothing else that is as rewarding as being a father.
And it not just the kids. There are few things as pleasant as watching your cute pregnant wife in the kitchen cooking a delicious dinner. It's the way things are supposed to work.
So I am encouraging all my readers to get busy making babies. It's safe, it's great fun, and it will make the world a better place in the long run.
But there is one potential downside to this baby making business—if you are not careful it can ruin your wife's body. As the husband, it is up to you to make sure that your precious investment does not depreciate in value. Here is the complete guide to protecting your investment and keeping your wife looking attractive.
Don't Let Your Wife Become a Hambeast
This is the most important tip. At some point in the 20th century, women were told that pregnancy meant that they were eating for two. So women dutifully ate like two people—in some cases, like three people—trying to ensure their baby was healthy.
Yes, pregnancy does mean that a woman has some greater nutritional requirements, but it doesn't come anywhere near the "eat for two" philosophy. When a baby pops out, they can consume about a milliliter of formula at a feeding. That's not a lot. Certainly not a whole box of donuts.
The "eat for two" myth has been debunked by medicine, but it still persists with a lot of modern women. Maybe because it is an excuse to really go whole hog and eat the house.
But it is a bad idea because weight gain is the most destructive thing about pregnancy. When the weight gain is excessive, stretch marks, loose skin, and saggy boobs become more likely. The corollary is that when the weight gain is within healthy parameters, pregnancy will not destroy your wife's body.
What are healthy parameters? Your wife should check with her ob/gyn to get the medically approved range. Of course it also depends on the starting point. My wife gained about 25 pounds with our first and she is tracking at about the same pace for our second.
How do you keep the weight within healthy parameters? We've found that the best way is to follow a relaxed paleo diet with plenty of fresh fruit and veg. Here is a typical day for my wife:
Breakfast: Two whole eggs, two slices of uncured bacon, fruit.
Lunch: Large salad (arugula, spinach, kale) with roasted chicken, tomatoes, carrots, and full fat ranch dressing.
Dinner: This can be anything but typically includes a carb like rice, cornbread, or sweet potato. The main portion of the meal consists of a meat and a large side of veg.
My wife eats dessert but it is usually only a small portion, like a quarter of a donut or a few chocolate chips.
For a while she was doing a personal pizza for lunch, but she started to gain weight more quickly so we went back to the paleo-esque diet.
If left to their own devices, women will gravitate toward eating carbohydrate laden food. Carb heavy foods also tend to be processed and packaged, which makes them a lot easier to eat. Having a peanut butter and jelly sandwich is a lot easier to make than a steak so a pregnant lady will be tempted to go with the path of least resistance.
This is where you come in. Before you knock up your wife, ensure that your whole family is eating a healthy, lower carb diet with plenty of protein. That way, when your heir apparent lands in your wife's womb, no dietary change will be necessary.
Oil the Belly to Prevent Stretch Marks
Even if your wife does not gain excessive weight, there is no doubt about it, the baby stretches the belly out which increases the risk of stretch marks. One thing that really works in preventing the formation of stretch marks is Sweet Almond Oil. My wife learned this trick from other mothers.
We've been using the Molivera Organics oil with good results. I chose this brand mainly because it is not mixed with other oils and it is food grade. My reasoning is that if it is safe to ingest, it should be safe to put on my wife's skin.
It's my job to oil my wife's belly every night. I am pretty generous with the oil making sure the entire belly is covered, including the sides.
Exercise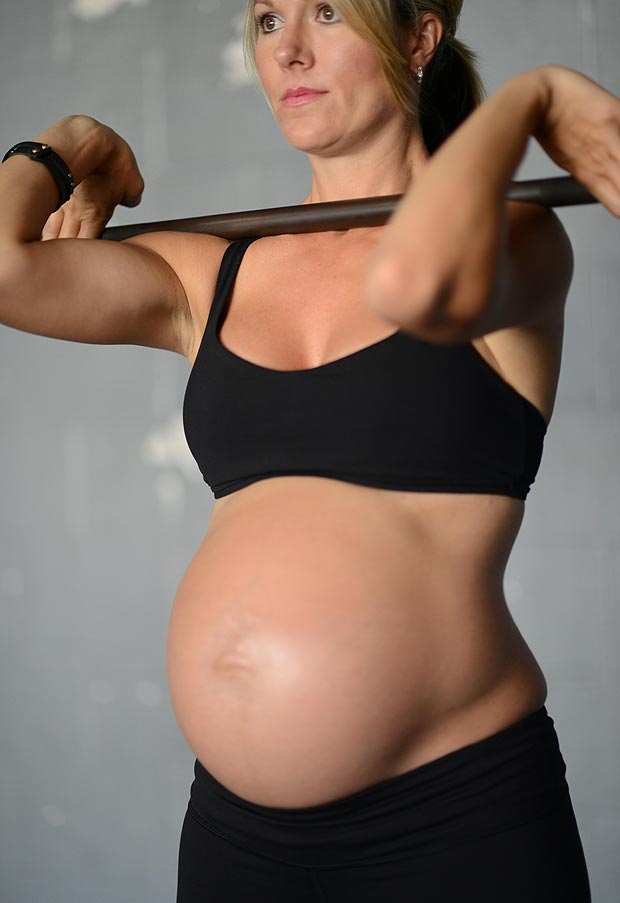 Another misconception is that when women get pregnant, they must stop all strenuous activity. This is a big mistake as nine months of inactivity can have devastating effects on a woman's body such as muscle loss, fat gain, and a reduction of cardio capacity.
Modern medicine has debunked this myth as well. A woman can continue to exercise for as long as she feels like it during her pregnancy. The only thing they advise is that pregnancy is not a time to take up a brand new exercise routine. So the key is to start your wife on a vigorous exercise routine before you start trying for a baby.
Other cultures don't have the idea that pregnancy is a time to just lay around. My Chinese martial arts teacher's wife continued to practice acrobatic kung fu forms well into her eighth month.
My wife continued to run through both pregnancies up until in the middle of her seventh month. Around that time, the belly starts to get so big that it becomes ungainly and even uncomfortable to run. After that, we just went for long walks.
With regard to weights, I've read mixed feedback. My wife stopped lifting early in the pregnancy because it didn't feel right. It is always a good idea to follow your intuition, so she stopped lifting but continued to do body weight calisthenics. That and the running kept her in shape.
I also believe that exercise is good for baby too as a healthy mommy is better able to provide for a healthy baby.
Your role in all of this is to exercise with your wife. A two or three mile run every other day should do it. There are also plenty of at-home exercise programs that can be done by men and women. My wife enjoys ChaLEAN Extreme and I like P90X. Both are great workouts for men or women. The only thing that will vary is the amount of weight that is used.
Get Started Young
As with anything else, it is easier to recover from a pregnancy if the woman is younger. Just from observation, it is clear that young mommies can have bodies that come through a pregnancy with almost no damage at all. Take advantage of this wonderful aspect of nature.
The Proof
Celebrities provide us with the proof that it is possible for a woman to continue to have a great body even after having children.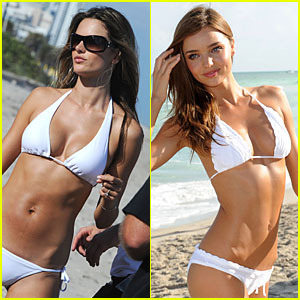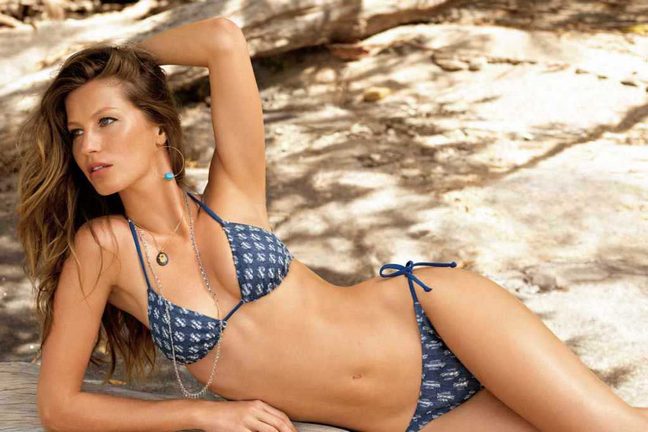 Yes, I know. These are super models. They have genetically superior bone structures. I am sure that some photoshop is involved as well. But there is no escaping the fact that they've maintained awesome bodies even after having children.
How do they do it? It is pure discipline and hard work. In an interview, one of the models gave some insight into her diet, which is very strict. She also let it slip that she works out like a fiend. She can jump rope for an hour straight. That's an elite level of fitness.
Conclusion
If you or your wife has delayed having babies because of the fear of what would happen to her body, fear not. With a healthy lifestyle, pregnancy doesn't not destroy your wife's body.
Update, January 2018: 
For all the humorless feminists: this piece was written tongue in cheek. Of course I don't think of my wife as an investment. That said, we do try to keep each other in shape. We do this because we love each other and want to be attractive for each other. Also, we want to be healthy so that we can lead long lives for ourselves and our children.
That said, all of the suggestions in the article are real, and in our experience, work. You are free to do whatever you like but don't criticize people who want to maintain their health and appearance.