There is a lot of agreement that the modern world has some pretty terrible problems. Rampant divorce, children being born out of wedlock, and fornication to name just a few on the individual level. Meanwhile, neoliberalism dominates our economics tending toward obliterating all cultures in its quest to create a global marketplace of fungible economic units. But how did we get here? Did it just happen? Or were there certain groups that actively worked to create the modern world?
If you took history in college, you were taught that the present state is just the result of inexorable market forces. The old world of kings, aristocrats, feudalism, craftsmanship, and walled cities was naturally cast aside as people learned that they were inefficient and out dated. Thus, impersonal forces are the official answer to "how did we get here?" If you happen to hold that this process was aided by any group of men, you are placing yourself outside the bounds of polite society—you are a crazy conspiracy theorist.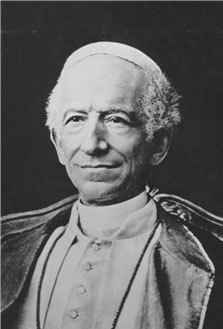 As it turns out, Pope Leo XIII was one such crazy conspiracy theorist. I was recently reading Against the Heresies by Archbishop Marcel Lefebvre (a book I highly recommend) and ran across Pope Leo's thoughts on the actions of the Masons which he outlined in his letter to the Italian people entitled, Custodi di quella fede. Leo did not only believe that Masons existed, but that they actively worked together to undermine Christian society.
Masonry has taken control of the public schools, leaving private schools, paternal schools, and those directed by zealous ecclesiastics… to compete in the education of Christian youth. Christian parents should not entrust the education of their children to uncertain schools. Masonry has confiscated the inheritance of public charity; fill the void, then, with the treasure of private relief. It has placed pious works in the hands of its followers, so you should entrust those that depend on you to Catholic institutions. It opens and maintains houses of vice, leaving you to do what is possible to open and maintain shelters and half-way houses. An anti-Christian press in religious and secular matters militates at its expense, so that your effort and money are required by the Catholic press.
In other words, Pope Leo is telling us that Masonry has consciously done a march through the institutions. They have taken over the press, education, and charitable organizations with the aim to foster Enlightenment ideas to the detriment of gospel values.
But Masonry did not stop merely at this level. It also consciously set out to help people who agree with its ideas. Leo points out that we should be doing the same thing to help our side.
Masonry establishes societies of mutual help and credit unions for its partisans; you should do the same not only for your brothers but for all the indigent…

May this struggle between good and evil extend to everything, and may good prevail. Masonry holds frequent meetings to plan new ways to combat the Church, and you should hold them frequently to better agree on the means and order of the defense. It multiplies lodges, so that you should multiply Catholic clubs and parochial groups, prominent charitable associations and prayer organizations, and maintain and increase the splendor of the temple of God. The sect, having nothing to fear, today shows its face to the light of day. You Italian Catholics should also make open profession of your faith and follow the example of your glorious ancestors who confessed their faith bravely before tyrants, torture, and death. What more? Does the sect try to enslave the Church and to put it at the feet of the state as a humble servant? You must then demand and claim for it the freedom and independence due it before the law.
In short, Pope Leo called for Catholics to not be naïve to the agenda of the enemy and to actively work to counter the work of these groups.
Unfortunately, while there are many outstanding Catholic groups doing great work, there are no Catholic organizations that have the breadth of what Masonry exhibits. Where are the Catholic organizations that promote Catholic business, finance, education, or media on a scale that rivals that of its secular counterparts? Where are support groups for Catholic politicians so that they don't need to prostrate themselves to billionaire libertarians to win elections?
There is some urgency for Catholics to come together to do these and other things as society is gradually becoming less tolerant of Christians. It is no secret that many Catholic doctrines are now at complete loggerheads with liberal society. How long will it be before we are classified as being guilty of "hate crimes" for Catholic teaching? It behooves us to prepare parallel institutions now so that, should a soft persecution breakout, we will be able to flourish.
This is not the work of one man but a large group of dedicated men. If you are interested in participating, leave me a note in the comments or follow on me on Twitter (@HonorAndDaring) and tweet at me so that I will follow you back.
Read More: Masculine Spirituality