This week on Return of Kings, I wrote about how European leaders are actively working to undermine their own populations by importing hordes of Islamic immigrants from the Arabian peninsula and Africa.
If you happen to live in the US, you might be thinking, "Those poor Europeans really have a problem on their hands. Sucks for them. Glad we don't have unresponsive bureaucrats governing us."
But adopting that attitude is a mistake because the Syrian refugee crisis is coming the US as well. And what Europe and the US are facing now is nothing in comparison to what is coming in the future.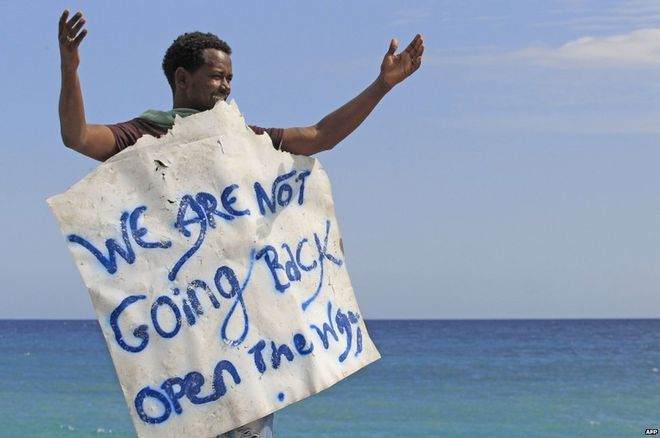 President Obama has already agreed to take 10,000 refugees, but don't think that it will stop there. Secretary of State John Kerry said that the US is willing to take up to 100,000 refugees, and the drumbeat to add more to that number is well underway.
Slate carried an article in June of 2015 stating that one out of every 122 people in the world (or about 60M) is displaced by violence. A very high percentage of these refugees come from predominantly Muslim countries:
The staggering numbers are caused by conflicts in a relatively small number of countries. Just three countries—Syria, Afghanistan, and Somalia—account for 53 percent of those displaced. The top 10—also including Sudan, South Sudan, the Democratic Republic of Congo, Myanmar, the Central African Republic, Iraq, and Eritrea—account for 77 percent.
Slate appeals to our compassion to suggest that the US needs to do more than it is already doing: "Given the impossible-to-ignore images coming out of Europe, it's getting harder to say the U.S. shouldn't share some of the burden of the unprecedented crisis."
Why does Islamic immigration pose a threat?
Islamic immigration poses a threat on two fronts.
The first is terrorism. While we can safely assume that most of the Muslim immigrants simply want a better lives for themselves, we can also safely assume that a small percentage of them are radicalized. By taking in more migrants, Europe and the US will undoubtedly need to monitor more people. As we saw with the Charlie Hebdo shooters, it is impossible to monitor everyone. Terrorists will slip through the cracks and lives will be lost. However, this is not the biggest threat.
The second threat is that Islamic immigration will destroy what remains of the Christian culture of the West. This is because Western nations have thrown away their Christian heritage.
The Europeans, to a large extent, have discarded Christianity in favor of overt atheism. It is not that they hate Christianity, it is just that they consider it irrelevant. An English co-worker told me that he regards a belief in God as something akin to a belief in fairies. It was just a silly thing his ancestors did.
For these post-Christian Europeans, the focus is on living a good life here and now. And the Europeans have generally done a good job. While "conservative" Americans may mock Europeans for their socialism, my opinion is that many middle class Europeans enjoy a much higher quality of life than middle class Americans.
Americans, on the other hand, still retain a semblance of Christianity. The majority of Americans are still Christian, and a surprisingly large number of them still attend church services. But the doctrine of "separation of church and state" has forced Americans to try to define themselves in strictly secular terms.
One illustration of this is some of the memes that were circulated after the attacks of September 11. Bloggers were fond of posting pictures of scantily clad women holding guns. The caption accompanying these photos was "Why we will win."
There is something wrong with our culture if we think we are going to defeat Islamic radicalism because our women are more naked than theirs. That our women are "easy" is not a strength. Instead, it points out our spiritual poverty.
The other reason we are told that our culture will win is because of our embrace of democratic capitalism. However, this is also a cultural weakness because it causes us to think of people in merely economic terms. From the perspective of an economist's model, a Muslim from Sudan and a Christian from Iowa are the same. They are both motivated by self-interest. That is why our elites are in favor of open borders—to them, humans are completely fungible.
If you want more proof of this, you only have to look at what the establishment Republican Party stands for. While they give lip service to conservative social issues, their ultimate message is simply that they are good for business. And when they say business, they mean large corporations, not mom & pop start ups.
Islamic culture is stronger than post-Christian culture
Islamic cultures may be poorer economically, but they are richer culturally because they have not jettisoned the idea that they constitute a people. Even moderate Muslims consider themselves as part of the Ummah—the Muslim nation.
Muslim women almost never marry non-Muslim men. When Muslim men marry non-Muslim women, the women usually convert to their husband's faith demonstrating their own weak faith.
Muslims, whatever their other faults, have a historical memory. They remember the glory of the Islamic empire. They remember that Islam had once ruled Spain, which they call al-Andalus to this day. They remember that they were encroaching on the rest of Europe. They remember when they ruled Jerusalem—and they look forward to the day when all of these territories are restored to Muslim rule.
Modern day people in the West, even most Christians, lack this historical memory. At best, we can hold up the Enlightenment ideals of liberty and equality. However, even our concept of liberty has been reduced to mere sexual license.
Muslims are proud of their faith and they are quick to assert themselves even as the minority population.  Christians and post-Christians end up in the position of doing their very best not to offend, and sometimes even change their customs to better suit the Muslim minority.
The extreme weakness of Western civilization is exemplified by the horrible scandal at Rotherham England. Over the course of 16 years, at least 1,400 white girls were raped and sexually abused by 300 Muslim men. The British authorities turned a blind eye to this shocking activity—for fears of being labeled racist. If that does not speak to the utter cowardice of Westerners, I do not know what does.
Because Western culture lacks any root, it will be completely overwhelmed by Islam if enough Muslims are allowed to settle in Western countries.
It is only going to get worse
While the refugee crisis of today is bad, it is going to get much worse in the coming decades. Jean Raspail, the French author of the prophetic novel, The Camp of the Saints, was asked in an interview about what he thought of the Syrian refugee crisis. Raspail responded:
What's happening today isn't important, it's anecdotal, for we are only at the beginning. Right now, the whole world is talking about this, there are thousands of specialists on the issue of migrants, it's a chaos of commentary. Not one looks at the thirty-five years that lie ahead. The situation we are living through today is nothing compared to what awaits us in 2050. There will be nine billion people on the earth. Africa has gone from one hundred million to one billion inhabitants in a century, and perhaps twice that in 2050. Will the world be livable? The overpopulation and the wars of religion will make the situation fragile. That's when the invasion will occur, it is ineluctable. The migrants will come in great part from Africa, the Middle East and the borders of Asia… [Source]
What does this have to do with masculinity?

In the comments to my ROK article, some men expressed the idea that there is nothing to be done. The best thing to do is to improve yourself and embrace masculine virtues. By doing so, we will improve these situations.
There is some truth to this approach, but it doesn't go far enough. Unless we restore the spiritual foundation of the West, all other efforts will be futile. The ideals of the Enlightenment and liberal democracy will not be enough to stop the onslaught. Only when we are united by a true spirituality will we be able to say 'no' to being overrun by Islam.
Restoring spiritual foundation of the West means strengthening the Catholic Church.
But I don't mean just strengthening the Church as it exists today. The Catholic Church is suffering from an overemphasis on mercy and immanence to the exclusion of justice and transcendence.
Pope Francis' teaching on immigration is so one-sided that it only exacerbates the problem. He recognizes no limit to the burden than Christians can assume. He doesn't recognize that excessive mercy can result in cultural suicide and even physically endanger the Christian population.
To truly strengthen the Church we will need to restore the whole deposit of faith, including the parts that might be offensive to modern ears. We need to return to the masculine faith that won over the warlike tribes of Europe—the Christian synthesis of the Middle Ages.
In future posts, I'll discuss some things we can do to make this happen.
Update: I came across this brief video of Peter Hitchens discussing the migrant crisis. He says essentially what I say here: This crisis will have profound impacts on European society, and that it is fostered by Europe's leaders only being able to think in economic terms.
Syrian Refugee Crisis Is Just The Tip Of The Iceberg