My post this week on ROK is an Introduction to Patriarchal Nationalism. It is a platform developed by Roosh and me to begin taking the first steps toward a new order.
You'll probably find things that you disagree with in the platform. That's fine. The goal is to shift the Overton Window. Once a certain group of men realize that there is no hope of democratic change under the existing order, they can begin laying the foundation of the new order.
It is not required that Patriarchal Nationalism become a mass movement in order for it to succeed. In fact, I'd be a little worried if it did. The people who are ready for it will understand it.
But I wanted to tackle one criticism from the comments to the article. The commenter wrote that he is not a fan of "save the west" type articles because he finds that it is keyboard warrior stuff—nothing ever goes beyond just talk.
It is a fair criticism. Our goal is not simply to LARP. We want to go beyond theory and move this thinking into the real world. Here is the way to begin.
The Foundation
Of course, the foundation is self-improvement. The modern world deliberately emasculates men—they are easier to control that way. As Jack Donovan talks about in The Way of Men, We exchange our natural masculinity for an office job, two weeks of vacation per year, and a steady diet of corporate food, porn, and Hollywood movies.
Our natural competitive instinct is sated by corporate sports. We can cheer for the corporate team that has its headquarters in our city.
The net result is that most modern men are weak: physically, emotionally, and spiritually. We can't defend ourselves because no one has taught us. Physical activity is discouraged as being part of 'toxic masculinity.'
We crack under pressure because we've been coddled. Each new generation is more coddled than the one before it. If you doubt this, just look at today's college students who retreat to their 'safe spaces' whenever someone says something 'triggering.'
Most of us are spiritually impoverished. If we were raised with any faith at all, it is probably a watered-down, universalistic faith where everyone, no matter how evil, is saved. Our Christianity is not something worth defending much less dying for. After all, who would be willing to die for a faith that teaches exactly what the social justice warriors of the current day believe?
Thus, if we are going to make any progress in changing the existing order, we have to reverse the deleterious effects our culture has had on us by working on the areas in the following graph: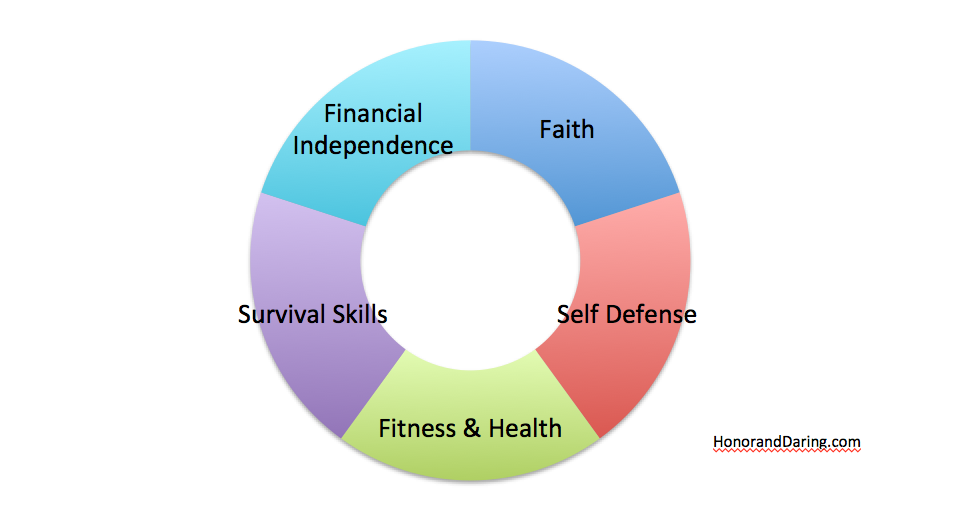 But this is only the foundation. If you do nothing more, nothing will change. Improving yourself will make your life better, but by itself it does nothing to change the existing order. Self-improvement is a prerequisite, but not sufficient by itself.
Ride the tiger

Italian philosopher Julius Evola had an analogy to describe the existing order. He said that it is like a fierce tiger that is constantly moving. If you try to oppose this fierce tiger directly, you will be torn to shreds. Thus, rather than directly opposing the tiger, differentiated men will choose to 'ride the tiger.' They will be carried along by the beast, all the while avoiding its sharp claws and teeth.
Riding the tiger is not a passive endeavor. It involves preparation. The tiger will not be able to keep moving forever. It will eventually weaken and slow down. At that point, the differentiated man will take advantage and slay the tiger and establish a new order.
But how do we prepare?
One man, no matter how powerful, will not be able to slay the tiger by himself. It will be the work of many men guided by Providence.
We can already see that the current order is beginning to exhaust itself. That is our signal to build our tribe.
What is a tribe?
Your tribe is a group of men (and only men) that you are close friends with. Ideally, they share your worldview that we are living at the end of the liberal experiment that began with the Enlightenment.
For the immediate term, these men are indistinguishable from close friends. You get together at least once a month for beer, dinner, or a trip to the shooting range. You workout and train martial arts together.
For the longer term, these are men who you can count on when the chips are down. If at some point the power of the state begins to recede, these will be the men who will be by your side to defend your community.
Building a local tribe was one of the things that Roosh was trying to accomplish via the ROK meet ups. Roosh saw that once something terrible begins happening in your country, like Merkel's decision to import thousands of "rapefugees," it becomes much more difficult to organize. He wanted to prevent it from happening in other places.
But it was too much for the elites to accept. The media went into insane overdrive mode to attack the meet ups which resulted in Roosh canceling them over safety concerns.
But the urgency of building your tribe has not gone away.
Five qualities to look for
The men of your tribe must be chosen very carefully. These are not ordinary friends. Here are five qualities to look for: 
Loyalty: It is easy to find fair weather friends. It is much more difficult to find a friend who will actually inconvenience himself to help you, and still rarer to find someone who will risk his life for you.
Loyalty is a quality that is the mark of highly differentiated and noble souls. It is an extremely rare virtue in this age. These are the men that you want to be in your tribe.
Integrity: The members of your tribe should be men who are true to their word. If they say they are going to do something, they do it. They are honest.
Courage: Seek out men who are not afraid of adversity. They must have a record of confronting the difficulties in life without flinching.
Toughness: You don't want soft men as part of your tribe. Avoid men who are afraid to spar or lift a weight.
Shared Worldview: After loyalty, this may be the most difficult quality to find. Most men still believe that everything can be fixed by the election of the mythical "True Constitutional Conservative President." It is only when men realize the gravity of the situation that they can begin fully preparing.
But don't reject good men out of hand simply because they have not achieved the realization that society cannot be fixed democratically.
In my own tribe, most of the men fall into this category. But they are good men and in time they will realize that the best we can do through elections is to place Band-Aids on a bleeding wound.
One of the best ways of helping friends to realize that the 'tiger' is slowing down is to share good articles. It is often less obtrusive than trying to convince them in a one on one conversation.
Conclusion
In short, you are looking for men who, in an another age, would be knights.
The key thing is to start today. Even if you have only one other person in your tribe that is a good beginning.
Update: Be sure to check out the comment from Victor below. He already has a good size tribe and he has some practical ideas on forming and running your own tribe.
Read More: How to Become Great