This is not a political blog. My main interest is writing for men who want to improve their lives and the culture. But I've found some developments in American politics that are disturbing enough that I can't be silent.
Americans assume that Republican voters can pick the Republican presidential candidate who they would like to represent the party through a democratic process. Registered republicans vote in each state's primary contest. The winner of a state's primary would get all of that state's delegates at the Republican convention. The candidate that democratically wins the most delegates gets to be the party's nominee. In other words, the voters decide in a clean, transparent process.
That's not the way it works. In fact, I am not sure that the Republican voters will have any say as to who will be the GOP nominee for president in 2016.
The first inkling that I had something was amiss was when I saw that Colorado Republicans had canceled their presidential vote at the 2016 caucus. This means that Colorado Republican voters will not get to choose who the eventual nominee would be. Why would the Colorado GOP leaders make this decision?
The reason is that they want to stop Donald Trump. Trump is currently the front runner by a wide margin over the other candidates. If Colorado had gone ahead with its caucus, and if Trump was the winner of that caucus, then all of Colorado's GOP delegates would go to him. By canceling the caucus, then Colorado will be able to vote for someone other than a democratically selected candidate.
If Trump continues to be the man preferred by most Republicans, we can expect other states to follow Colorado's decision.
Virginia and North Carolina want to implement a new requirement
Other states are taking a different angle. North Carolina and Virginia are considering adding a new rule: to qualify for their primary ballots these states want all candidates to pledge "to support the Republican presidential nominee — and not run as a third-party candidate — in the general election."
The Virginia proposal has received the support of the former attorney general Ken Cuccinelli. In an interview with Politico, Cuccinelli said: "Anybody who wants to seek the Republican nomination should have to commit to supporting the ultimate Republican nominee. I don't see anything wrong with that."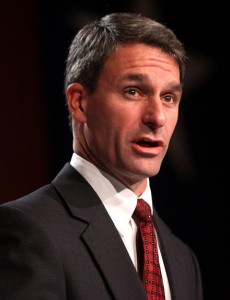 It sounds innocuous, but it is not. The rule is obviously aimed at Trump—he was the only one that would have any chance in a third party run—and it needs to be viewed in the context of the Colorado decision to cancel its caucus.
The way I understand it, Trump would be forced to forego running as a third party candidate even if the GOP were to nominate a presidential candidate using a nondemocratic method.
But why does the GOP want to tie Trump's hands?
You would think that the GOP would be thrilled to have Trump as a candidate. He's controversial, but he is also exciting—far more exciting than the other Republicans or anyone that the Democrats could field. He is fast on his feet. He can speak without a teleprompter. He's highly educated and wildly successful.
In comparison, the choice of the GOP elite, Jeb Bush, is about as exciting as overcooked oatmeal. Jeb is deathly boring. He comes across as the epitome of weakness. He can't answer a question without checking with his pollsters. As a nominee, Jeb would be almost certain to lose against any Democratic candidate with a pulse.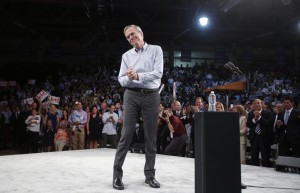 Trump, on the other hand, is not politically correct. He doesn't need pollsters to tell him what he thinks. He is strong and unapologetic. He is presidential.
Most importantly, Trump has well-defined policies—and the voters love his policies. He wants to shut down illegal immigration. He wants to reduce taxes on the middle class and close tax loopholes for ultra wealthy hedge fund managers. He wants to negotiate better trade deals and boost American industry.
So why is the GOP fighting Trump?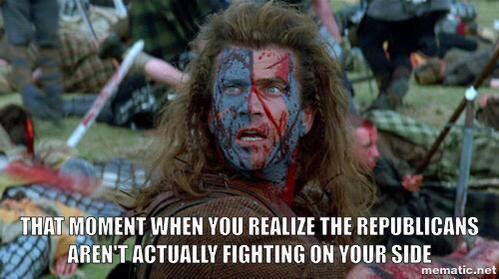 The reason that GOP leaders will give is that Trump is offensive. His comments about illegal immigrants committing crime supposedly offend Hispanic Americans.
GOP leaders say that the United States is quickly becoming a Hispanic majority country. The only way for the GOP to remain viable is to appeal to Hispanic voters. Even though Hispanics overwhelming vote Democrat, GOP leaders assure us that if the GOP provides an amnesty to existing illegal immigrants, Hispanics will start to vote Republican.
If Trump is the nominee, we are told; Hispanics will feel alienated from the Republican Party. This would destroy all of the Republican Party's future prospects for generations to come.
But that is not the real reason that the GOP elite don't want Trump. The real reason is that Trump's policies are contrary to the wishes of the Republican Party's constituents.
But didn't I just say that Trump was leading in the polls? Yes, he is. But the Republican voters—those middle class working families, those small business owners, those decent people who are just trying to get ahead in the world—those people are not the Republican Party's constituents.
The Republican Party's real constituents are the big money interests that benefit from the cheap labor that unchecked immigration provides. These big money interests are not necessarily evil. They are usually just larger businesses that would like to pay workers less, and they can achieve that by increasing the supply of workers.
Libertarian economists are very fond of talking about supply and demand curves until the subject turns to immigration. Then, somehow, the law of supply and demand no longer applies. The truth is that if you have a larger supply of workers, the wages that you have to pay them goes down.
Trump's proposal to install e-verify for employment and to build a wall will work. It will cause most illegal immigrants to self-deport because they will not be able to find work in the US—and the wall will staunch the flow of future illegal immigration.
But doesn't everybody win with illegal immigration?
Businesses win. They get a steady supply of hard-working, low-wage workers. But there is a price.
Low-wage American workers lose. Despite what politicians like to say, not everyone is "college material." There will always be a large percentage of the population that prefers to work with their hands doing things like painting, landscaping, and plumbing. These low-wage American workers are hit the hardest. They see their job prospects melt away and their wages decrease.
Public schools and the communities that pay for them lose. The people who are immigrating to the US from Central America are uneducated. Most of them do not even have the equivalent of a high school education. Some don't have any formal education at all.
These immigrants typically don't have the same resources to educate their children that American families do. The result is that American schools that are in districts with a high illegal immigrant population find themselves struggling to provide extra services, like free meals and teaching resources to bring the new students up to speed.
In comparison, Indian and East Asian immigrants usually do not require free meals, and they are faster to learn English. In other words, Indian and Asian immigrant students are less of a burden to the system. If you don't believe me, don't check with some socially challenged nerd at a think tank who has never left the ivory tower—go ask an elementary school teacher in the field.
Crime. Of course, illegal immigrants commit crime at higher rates than middle class Americans. This is one of the things that Trump said that got everyone so angry.
In short, illegal immigrants create lots of externalities that have to be paid for by the greater public. The companies get the benefits; the public pays the price. That doesn't seem fair, and that is why so many people are backing Trump.
Will the GOP Attack On Trump Be Successful?
The GOP leadership would like to see Trump stumble. So far, that hasn't happened.
However, as I write this, there is a rumor that the GOP leadership is planning a massive blitz of commercials after Labor Day to stop Trump. Funny that they would be spending money (perhaps via a PAC) to defeat a Republican.
If they are able to bring Trump's poll numbers down enough that some donor-approved candidates can begin winning certain states, we will likely see states that are certain to go for Trump to do the same thing Colorado did—cancel their primary votes. The only states that would have votes would be the ones where the donor-approved candidates are leading.
If that happens, Trump's only option would be to run as a third party candidate. This is what is behind the efforts of North Carolina and Virginia to require Trump to sign a "no third party run" pledge.
If those things happen, the GOP "inner party" will be able to successfully derail the person that the Republican voters want—Donald Trump.
If the GOP elite is not able to get Trump to lose in certain states, then I don't see how the GOP will be able to honestly stop Trump from getting the nomination. They still may try, but their mendacity will be apparent to everyone.
I believe they will be willing to unleash all hell against Trump. Their rallying cry is: All for the Donors!
The GOP leadership is being shortsighted
GOP leaders believe that Trump is just an aberration, like the tea party. They think that once they get rid of him, his supporters will obediently go back to voting for Republican candidates who run as conservatives, but who act like Democrats when they get into office.
The GOP establishment is wrong. It has been percolating for a while, but the people who are supporting Trump have seen "The Great Oz" behind the curtain. They know that candidates like Marco Rubio and Jeb Bush will never represent the middle class. They will always do what the donors want—even if it is not what is best for the country.
If the GOP chooses to go to war with Trump, I believe they will find themselves marginalized. Something has awakened. With or without Trump, this is a movement that is not going to go away.