Most of the content I write is aimed at men, but this piece is for both women and men. As a writer for Return of Kings, I read my fair share of complaints from single men who bemoan the fact that American women are no longer marriageable. I think there is a lot of truth to this. When I was still in the dating market a few years back, I thought things were already pretty bad. From what I can gather, it is worse now.
But why have things gotten so bad? There are lots of causes, but I will address only one here: women receive really bad advice. Whether it is the advice from daytime talk shows like Dr. Phil or Dr. Oz, or the stuff written in women's magazines, the advice is uniformly bad.
In this post, I'll give the honest advice that women, especially single women need to hear. It won't be politically correct, and I can't guarantee that it will boost your self-esteem, but it will at least be true. Here is what men really want from women.
Men want thin women
The biggest reason that men complain about the dating market is that women are on average much heavier than they were in the past. The average American woman now weighs the same as the average man in the 1960s.
I once heard Dr. Oz say that he is interested in all women, regardless of their shape or size. I like Dr. Oz, but he was being a bit disingenuous in this instance.
Despite what you hear from Dr. Oz or Dove commercials, your size matters. No, you don't need to be a size 0 or have six-pack abs, but you do need a waist. Most men are not attracted to fat women.
I know a woman in her mid thirties who desperately wants to get married. She has complained to me that there are "no good guys left" and that only losers ask her out. She is currently the side girl for a married man.
This woman has an attractive face, she loves children, and she works hard, but she has one big problem that she refuses to rectify. She is fat.
What do I mean by being fat? It's not perfect, but the BMI calculator gives a pretty good approximation. If you want to be attractive to most men, you should aim to have your BMI fall within "normal weight" range. Honestly, it is preferable if you fall a little bit closer to the bottom half of the normal weight range.
Yes, I know that is insulting, sexist, and misogynistic, but the fact is that if you want to attract a high quality man, or keep the one that you have, you'll want to stay near the bottom of the normal range.
"But," you might say, "don't women come in all different body types? Isn't it true that some people just can't be thin?"
Of course women have all sorts of body shapes, but the amount of fat you carry is a simple formula. If you eat more calories than you burn off, you will carry excess weight. If you are carrying excess weight, you can lose it by eating less and exercising more.
Take Maria Kang, the "fit mom" who caused a stir a couple of years back.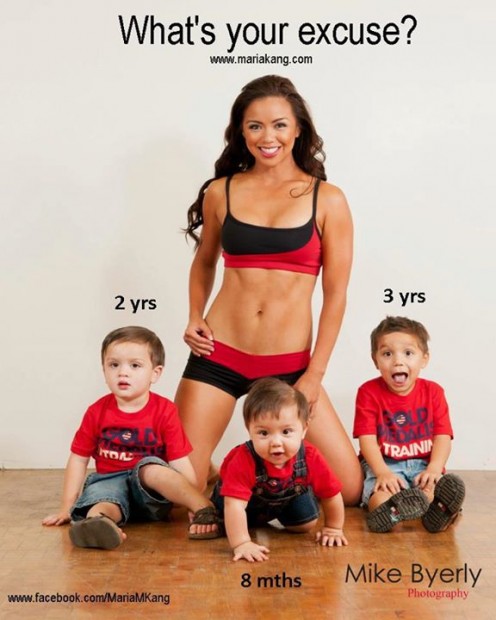 Kang doesn't have good genes. Her mother is obese, and Kang herself has the propensity to pack on weight. She is not shy about posting less than flattering pictures of herself when she was heavy.
To stay in this type of condition, Kang is runs on the treadmill every morning and she watches what she eats. Is it worth it? I think that most guys will agree that if you have a body like Maria Kang, you will get plenty of male attention.
If you look like Maria Kang, you will dramatically increase your chances of attracting and keeping a quality man.
While I am on the topic, let me say a politically incorrect word about pregnancy and fat. Lots of women talk as if pregnancy forever ruins your body and that you can only get it back with good plastic surgery.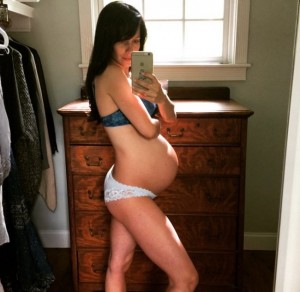 It's true that if you gain a shit-ton of weight during your pregnancy, it can wreak havoc with your body. But you don't have to gain excessive weight during your pregnancy. Pregnancy does not have to be the end of your sexual attractiveness.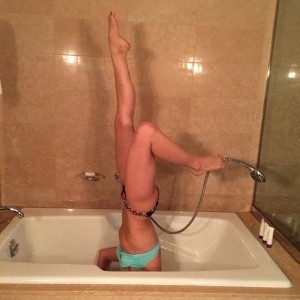 Men want to bang sluts. Men want to marry virtuous women.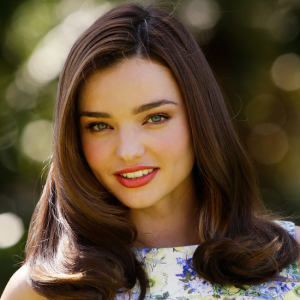 This sounds contradictory, but it is not. In every man's mind, there is a classification between girls who are "marriage material" and "would bang."
Girls who are marriage material are more attractive than the "would bang" girls. They look healthier and more wholesome. They are smarter. They have respect for themselves and they take the time to care for their appearance. They are feminine. Marriage material girls don't sleep around. They have a low notch count. It is hard to get in their pants.
About the "would bang" category of girls: men don't have a lot of standards here. This is a very low bar. Men treat these women as sluts. Men won't care about your appearance so much so long as you do not resemble Jabba the Hutt. They won't care about your brains, because they are not interested in banging your brains. Men want to sleep with these women, and when they are tired of them, they will move on.
The good news, ladies, is you get to decide which category you fit in by the way you live your life.
I am not saying that you will never get married if you are a slut, only that you will attract a lower quality of man. The marriage material girls tend to get the alpha males. The sluts tend to get the appeasing betas.
Now, that doesn't mean that the "marriage material" girls are prudes. A man still wants a woman who is sexy and playful—but he wants her to be sexy and playful with him, not everyone else.
Men want women who make good wives and mothers. Men don't want women who "Lean In"

I should qualify this. Traditional men don't want women who "Lean In" and become hard-driving, man-jaw business women.
There is a new breed of man out there who is a product of our modern culture. He wants a career woman who can do it all. She can bring home the bacon and be a great mother. He thinks that she needs to pull her weight. In fact, he might get resentful if she is not pulling more than her weight.
I know one of these modern guys. His wife just had their first baby a few months ago. She decided that she wanted to leave her low paying job and stay home with the baby. He is very angry that his wife has made this decision because it leaves him with less disposable income for cars and vacations.
He is also cheating on his wife with one of his coworkers. Personally, I think this guy is a bottom feeder and a sack of shit.
I am not implying that all husbands of working women are cheaters, only that the modern guy who insists that his wife work may have his priorities screwed up.
Also, you can't have it all. Someone once said that you can't serve two masters. It is impossible for a woman to be 100% devoted to work and 100% devoted to her family. One of them is going to suffer.
But I am taking about what traditional men want. The traditional man is the type of man that your grandfather or great grandfather was. A traditional man understands that the best thing for his children is that their mother raises them, not some low-paid workers at a day care institution "school." He will do his best to ensure that his wife can stay home to raise their children.
This is a counter-cultural message. Every thing in our society is designed to force women into the workplace. From the moment they enter school, girls are taught that they can only be happy by becoming vice presidents of a cubical farm in the Cosmodemonic Telegraph Company.
But the truth is that women were designed to bear and raise children. This is true whether you believe in a Creator or whether you believe that we evolved.
I also understand that there are certain financial circumstances that make it necessary for the woman to work. I am only saying that is less than ideal.
Men want women who respect themselves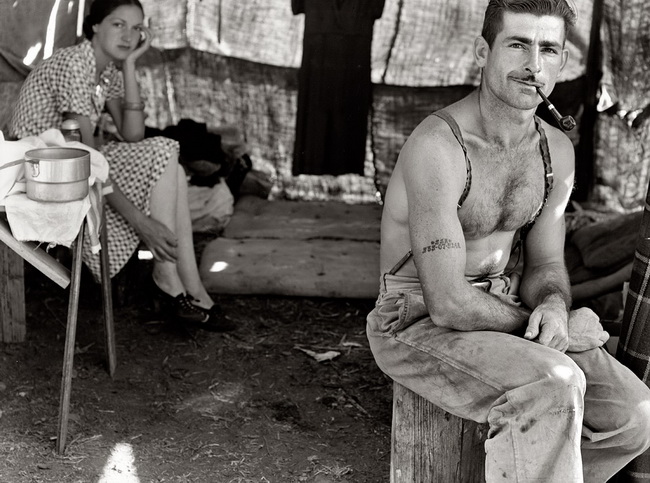 If you want men to respect you, you have to respect yourself. How do you do that?
Don't send naked pictures of yourself to people. And don't let your boyfriends film you having sex. Racy pictures and videos always end up in the wrong hands.
Don't do one night stands. Don't engage in threesomes.
Don't date married men.
Don't "experiment" with girls.
Exercise. Cardio is good. Do squats to keep you butt and legs firm.
Never stop learning. You don't have to do STEM, but keep your mind in good repair.
Read. 50 Shades of Grey does not count as reading.
If any man wants to reenact bits of 50 Shades of Grey with you, run.
Take some time to fix your hair, put on some make-up, and wear non-frumpy clothes.
Don't drink to excess. Having a glass of wine or two once in a while is okay. Drinking until you can no longer walk straight is not.
Don't smoke pot. There is a "significant and consistent relationship between marijuana use and the development of schizophrenia and related disorders." Maybe you will be one of the lucky ones who can smoke pot without developing schizophrenia. Is it worth the risk?
Don't be desperate. You don't need a man to be complete. If you don't currently have a boyfriend, don't hook up with a loser just because you want male companionship. Have some standards.
Finally, please take a break from agitating for social justice and work on yourself instead. We need fewer do-gooders and more people who are actually good.
Conclusion
That's it. That is what men really want from women.
Do you disagree or have something to add? Sound off in the comments section.
If you enjoyed this, please share it on social media using the buttons on the left.