I started Honor and Daring one year ago in response to the rapid decline of Western society and the storm that is coming our way as a result of that decline.
At the time, I wasn't very explicit about my reasons for writing. I feel the time has come to speak more plainly about the purpose of this site.
All civilizations grow and die
Every civilization goes through similar cycles from its founding to its decline. One of the best examples of one of these cycles is ancient Rome. Roman civilization had its beginning in the 8th century. It started as a monarchy that evolved into a republic. After nearly 500 years, the Roman Republic degenerated to the point where strong, centralized leadership in the form of the Caesars became necessary.
Rome flourished under the rule of Augustus Caesar that gave rise to the Roman Empire. However, even the Empire eventually decayed due to poor leadership, which in turn lead to the fall of Rome in 476 A.D.
The Coming Storm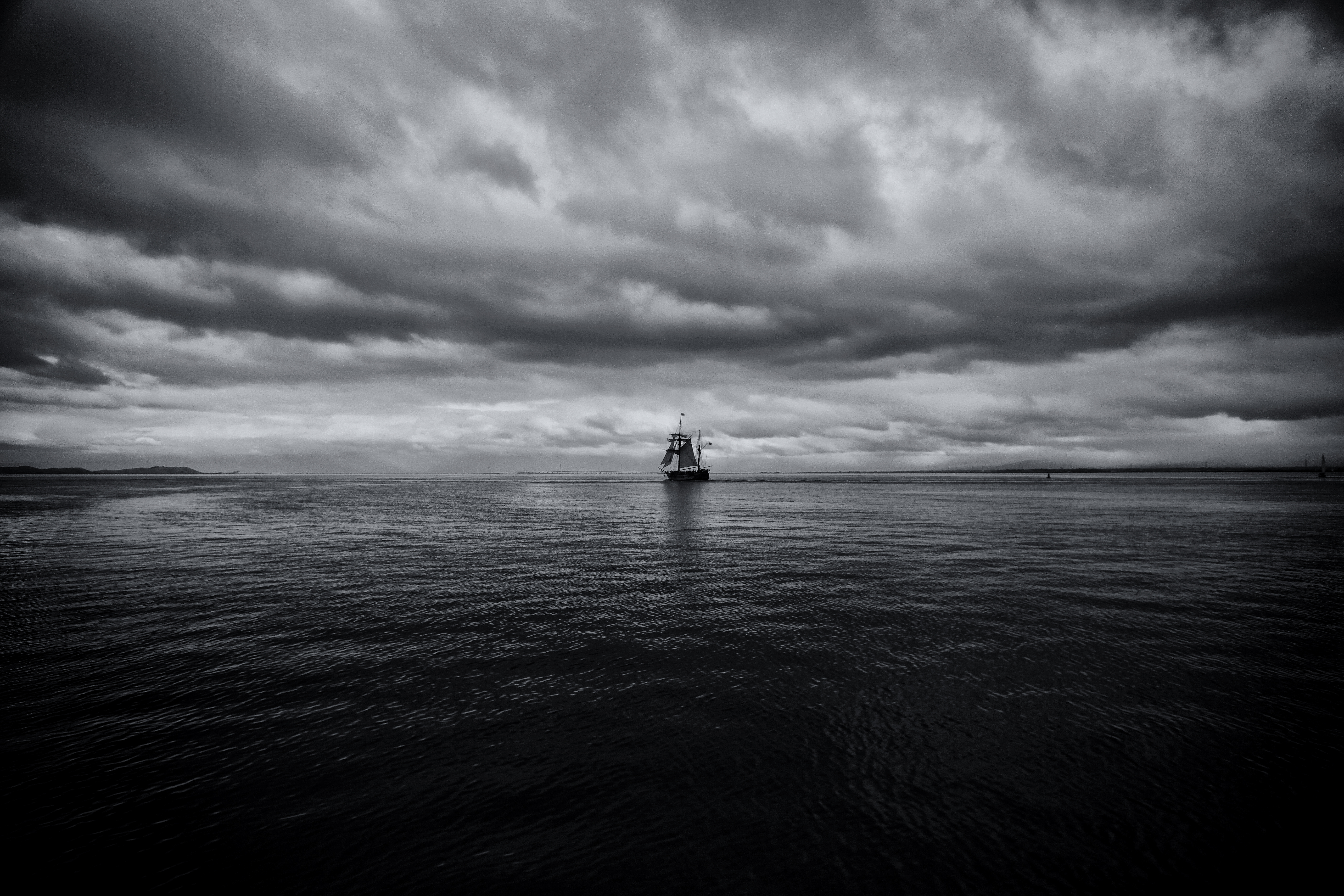 Our current civilization, which is based on the Enlightenment, is not immune from going through the same cycles that governed other civilizations. I believe we are now reaching the end of a cycle. Here are some of the signs that support that conclusion:
Western democracies are no longer responsive to their constituents. Governments only answer to a small number of plutocrats who also set the agenda for the media and academia. Most voters are completely oblivious to this situation.
We've abandoned the idea that faith, culture, and race matter. In its place, we've embraced the idea that all humans are fungible economic units. Everything has been reduced to a question of economics.
Most children are now raised by daycare institutions, not their parents or close relatives. The economic situation makes it difficult for most couples to enable the mother to stay at home.
Atheism is now the norm in Europe, and faith is quickly receding in the US. The void is being filled by consumerism and depravity.
Many children now do not have the benefit of a strong father. About half of children are now born out of wedlock. More will be products of divorce.
Western countries have been subject to increasing immigration from third world countries that is increasing violence while decreasing the common bonds that unite communities. And this is only the very beginning of the immigrant wave.
I could go on for pages.
In short, W.B. Yeats best captures our situation: "The best lack all conviction, while the worst are full of passionate intensity." This situation cannot continue forever. Something will have to give.
What form will the change take?
The answer to that question depends on us. There are three possibilities:
If we are able to rid Western civilization of the corrosive influences that afflict it, the path will be relatively smooth. It will still require major surgery, but it will be closer to the transition from the Roman Republic to the Roman Empire than it is to the Fall of Rome.
The West may gradually collapse with the outbreak of civil wars. This has the potential to turn into a new dark age.
The governments of Western nations consolidate power and set up totalitarian police states to govern their populations in an effort to delay the collapse for several decades.
The purpose of Honor and Daring is to make the first option more likely, and to help men to succeed regardless of what happens.
A balancing act
There are groups of men that are already preparing for the inevitable transition. Some have left the degenerate modern world to form self-sufficient communities. I consider these men brothers. We are all working toward the same goal.
But not all of us are able to take this drastic approach. We have to make our preparations wherever we currently find ourselves. If you fall into this category, this blog is for you.
The approach I take here is a balancing act: we will stay in the world and prosper, as best as possible. At the same time, we will begin changing the culture and prepare ourselves. In other words, the goal is to not be passive, but active agents of change.
Plan of Action
To successfully achieve this balancing act will require action on the four planes as captured in the following pyramid.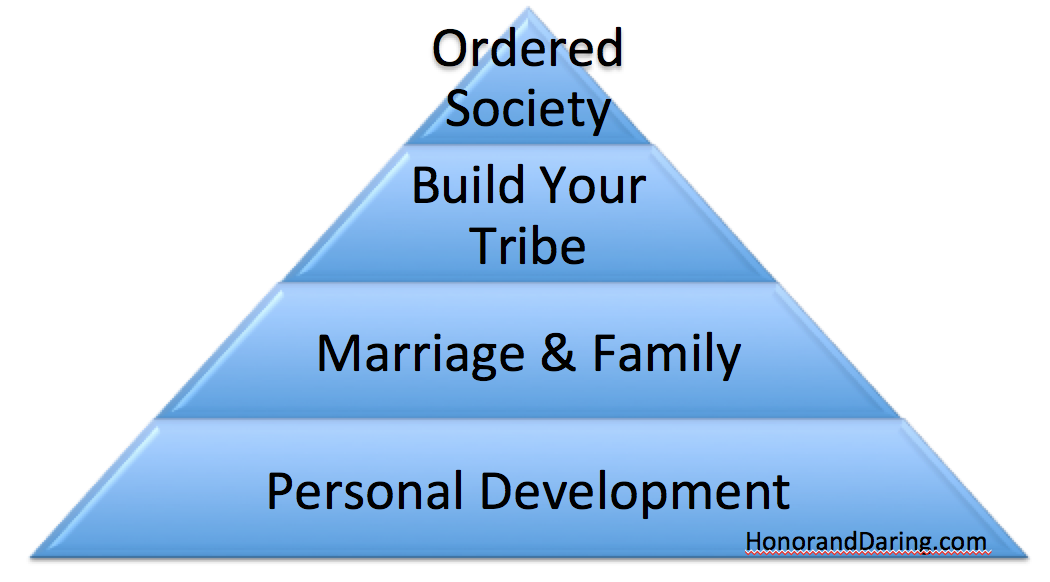 Personal Development
The foundation is Personal Development, which is divided into five areas: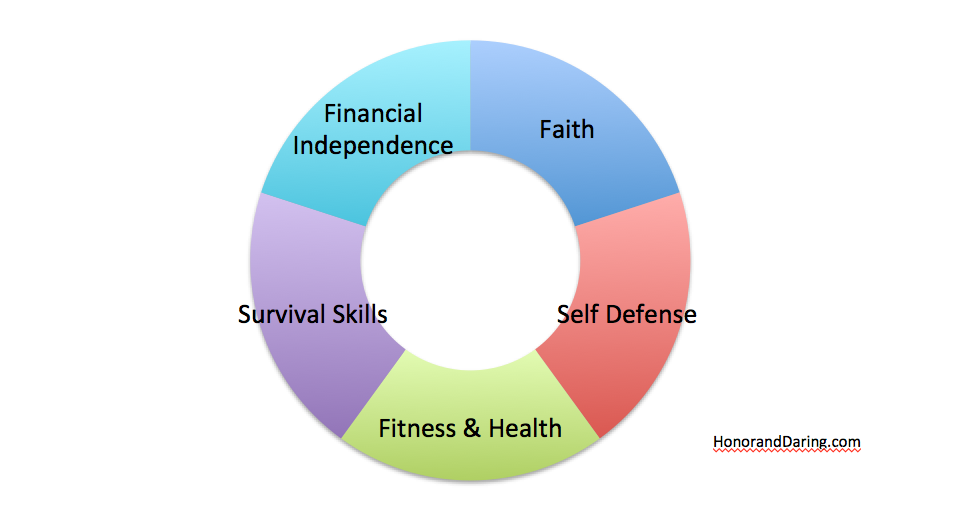 The inclusion of Survival Skills, Fitness & Health, and Self Defense is self-explanatory. These attributes are important to any man's life, but they will become crucial if law and order begin to recede.
Financial Independence may seem like an odd addition, but it is critical to rely on the system as little possible.
The approach to Faith taken here will be overtly Christian. Christianity is the tradition of the West. It served as the foundation for the formation of Europe, and I believe it will be the core of a renewed society. Our motto is Christus Vincit, Christus Regnat, Christus Imperat.
This blog will be largely focused on helping readers achieve these goals.
Marriage & Family
While Personal Development is good, it is ultimately vain if it does not serve some higher purpose. For most men, this higher purpose will be having a wife and family.
The posts will be oriented toward finding a wife, dealing with relationships, and fathering children to deal with the transition to the new age.
Build Your Tribe
We can't "ride the tiger" alone. We need the support of like-minded men. The articles under this category will emphasize leadership skills and strategy.
Ordered Society
Our ultimate goal is to form a healthy society. Some believe in a passive approach—waiting for a collapse before springing into action. But I think we are quickly coming to a time when some political action will be possible.
The articles related to this plane will take the form of political theory and a platform that we can work toward. There is no guarantee that any activity we engage in will be fruitful, but even in trying we'll be able to learn things that will serve us in the future.
Stay tuned
It is an exciting time to be alive. While we lack the stability that our parents and grandparents may have enjoyed, it is our privilege to be chosen to live at this time of crisis.
I hope you will join me, as I am certain that we are in for interesting times.